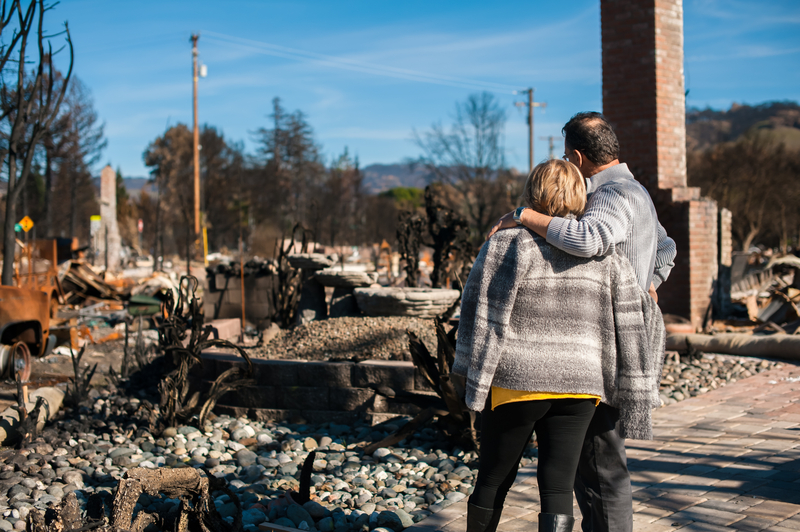 02 May

My House Was Destroyed In A Fire, Now What?

You've just experienced a house fire that has destroyed everything. You're likely thinking, "now what?" Well, the first steps are simple. If you haven't already, call 911. Let your friends and family know that you're safe and seek medical help if needed. Remember: stay out of the fire-damaged home until local fire authorities say it is safe to enter. The next steps after that are where it's less simple: getting started on rebuilding your life.

Suffering from a disaster, such as a house fire, can leave you feeling scared and confused. Sifting through property loss and deciding on the next steps can be an overwhelming process, to say the least. After the emotions of it all die down (and the aforementioned things have been addressed) the first thing you should do is file a claim with your homeowner's insurance company. Your insurance policy requires you to report the loss "as soon as reasonably possible." You can find your claim number by calling your agent or your insurance company's claims department. If you delay notifying your insurance company of the fire for any reason, it may jeopardize your claim.

Unfortunately, making a claim with your insurance company is seldom as straightforward and simple as you'd hope. It's important to remember that your insurance plan has specific coverage that you may not have even realized you have (or don't have). Finding out the specifics when you're in the middle of a disaster is never easy. Plus, keep in mind that many insurance companies are hesitant to pay out in full, and ultimately have their best interests in mind.
Hiring A Public Adjuster Can Help
That's why the next smart step is hiring a public claims adjuster to help. Providing loss consulting for personal and commercial insurance claims, experienced public claims adjusters help insureds (like you) fully recover from losses (like a house fire) by negotiating for the best insurance claim settlement you're entitled to. Remember, these policies are often long, complicated, and convoluted. But public adjusters are experts on property loss adjustment. The adjuster will review your insurance policy coverage, inspect the loss site to determine the scope of damage, file, prepare and adjust the property claim, and manage the entire claims process. They will work hard to help you file a thorough and fair claim, getting you every dollar you deserve to rebuild your life.
With or without the help of a public adjuster, the next few months will be spent working through the insurance claim process, making a list of lost property items and their value, and then determining where you will live. It's important to remember that "additional living expenses" or "loss of use" like hotel accommodations, meals, and even dry cleaning can all be claimed and covered by insurance. Got questions as you walk through picking up the pieces after a house fire?
Wondering what hiring a public adjuster can do for you? Give us a call and we can help you through the process.